If you have had a chance to read the Valley Animals Series by Brooks Firestone, you may have noticed the unique art style of the covers. These are the work of UK-based artist, Alasdair Hilleary, otherwise known as Loon.
Loon's work has has been exhibited all over the world in London, Edinburgh,  Hong Kong, Los Angeles, Melbourne, but particularly in St. Moritz,  Switzerland, where to date, he has had 17 exhibitions. He has also done a  variety of commissions.
Loon has a unique style, which is best described by the artist himself:
"I  paint in watercolour and finish off work using pen and ink and occasionally crayon. My aim is to create an attractive and colourful  painting with humourous content." – Alasdair 'Loon' Hilleary
The Santa Ynez Collection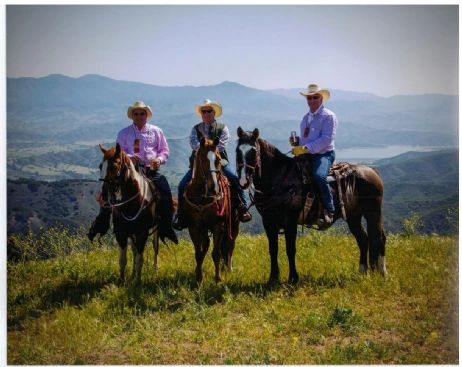 Loon is an artist after my own heart, choosing to pull inspiration from adventure:
"Ideas and images for cartoons stem from all personal experiences that I have had, and I try to participate with enthusiasm in all aspects of the activities that I paint. A sketchbook accompanies me on all my travels,  at home and abroad so that I can jot down ideas of impressions as they  occur; so you will find me researching my subject out stalking, on the  river bank, skiing, or riding the Cresta run, riding, hunting, racing,  sailing, playing golf and now kite surfing!" -Alasdair 'Loon' Hilleary
His mentality of painting from experience is perfectly demonstrated in Loon's work on the Valley Animals covers. When he was newly married, Loon and his wife Fiona spent 9 months living in  Santa Ynez. Beautiful vineyards and ranches made a lasting impression,  and now every May, Loon likes to return back to revisit old times and  catch up with lifelong friends he made as part of the private organization 'Los Rancheros Visitadores.' https://en.wikipedia.org/wiki/Rancheros_visitadores
The  'Visitadores,' are a group of cowboys who ride with groups of up to  2,000 to visit each other's ranches in long excursions that can reach up to 100 miles. Exactly the type of Santa Ynez Valley experience that  Loon captures in the Valley Animals cover art.
About the Artist
Loon has drawn and painted for as long as he can remember, nurturing his ambition to become an artist since the age of 7 or 8. (In fact, the name  Loon is a Scottish colloquialism, often used when referring to a young boy. It is a nickname he has had since a young age.)
The cartooning developed itself in the back row of the classroom at  Gordonstoun School, where he also received the only formal training for painting that he ever had. With most of the techniques self-taught, Loon attended  Grenoble university in France before heading for Courcheval where he worked on the ski patrol skiing all day long for an entire season.
He served a four-year commission in the Scots Guards and was stationed in  Germany, Northern Ireland, and London and made many great friends from those days who provided him with even more inspiration to paint.
After leaving the army in 1978, Loon began painting for a living. Since so much of his work comes from his life experiences, you will find the story of when he put three live white mice up the Piper  Major's kilt amongst other anecdotes in his book, "The Sporting Cartoons of Alasdair Hillearyâ€.
To request a commission, or to learn even more about the artist, visit his site: https://www.looncartoons.co.uk/
Content from the "The Sporting Cartoons of Alasdair Hilleary,†and Loon Cartoons website.
Written and adapted by Louis Force Torres